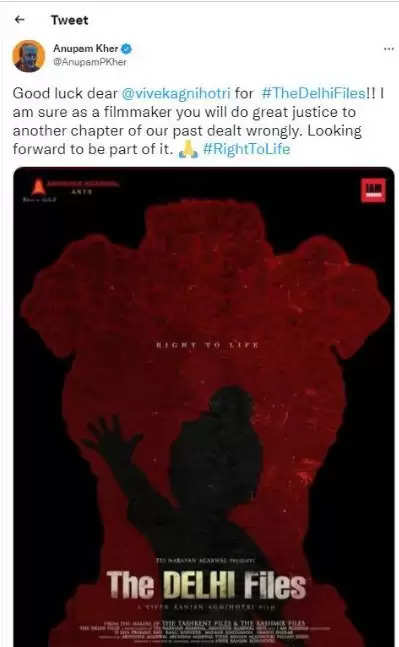 Newz Fast, New Delhi Director Vivek Agnihotri's film 'Kashmir Dossier' showing the tragedy of Kashmiri Pandits has received an outstanding response from the audience.
With the success of his film, Vivek Agnihotri announced that he will also make a film called The Delhi Files. From today he started working on this film. Actor Anupam Kher, who found a place in people's hearts by turning into Pushkarnath in The Kashmir Files, will also be a part of this new Agnihotri film.
Anupam Kher while sharing the poster of this movie some time ago said on social media that he really wants to be a part of this movie.
Congratulating director Vivek Agnihotri, Anupam Kher said, "I wish you all the best for The Delhi Files. I am sure you as a director will also give due credit to this page of history which is misrepresented. I look forward to being a part of it. #RightToLife. Anupam Kher also shared the poster of this movie with this tweet.
While sharing his picture on his social media, director Vivek Agnihotri wrote, "Thank you to all those who have embraced 'Kashmir Files' as their own. For the past 4 years we have worked hard with complete honesty and discipline.
I may be replacing your chronology, but it is important that people know about the atrocities and killings of Kashmiri Hindus. Now it's time to start working on my new film.
Talking about Kashmir Files, Anupam Kher played the character of Pushkarnath who was a Kashmiri Pandit in this movie. Anupam Kher was highly appreciated for his character. ,
Kashmiri files entered the box office with Prabhas' much awaited and hyped film 'Radhe Shyam'. But probably no one even thought that the "Kashmir Files" would write such a successful story. The film earned more than 200 crores at the box office.


For more Bollywood updates, Click here.